Once the data have been loaded, the Navigation Tree is used to explore the available properties. Opened windows dynamically appear in the Workspace and are added to the Window Menu. This enables quick navigation if the Workspace becomes crowded. All windows can be closed with the button (

) in the upper-right of each window.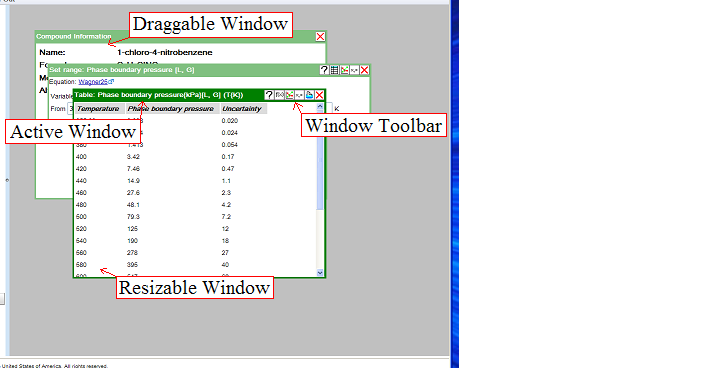 There is only one Active Window in the Workspace, and it is differentiated by its darker border. A background window can be made active by clicking within the visible window area or selecting the corresponding entry in the Window Menu. A window can be dragged about the Workspace using the window title bar. and can also be resized by clicking and dragging the window borders.
The buttons available in the Window Toolbar are content dependent. These buttons will be a subset of the following:
Display the Application Help window and navigate to the help content associated with this window type. This means selecting the Help button on a graph of liquid density will display

Display the Range Specification window for this model.

Display the Data Table window for this model. (Note: this table will not contain numerical data until a calculation is requested using the Range Specification window.)

Display the Graphical Plot window for this model.

Display the Model Parameters window for this model.

Open a new browser window with the window content formatted (HTML) for easy printing, downloading or copying/pasting.

Close the window, removing it from the Workspace and Window Menu. (Note: the web application will cache the state of the window until a new compound is loaded.